Intratracheal naked dna vaccination with
The newly synthesized antigen can stimulate a specific immune response. The type of T-cell help raised is influenced by the delivery method and the type of immunogen expressed, as well as the targeting of different lymphoid compartments. Simple mixing of highly immunogenic plasmids may lead to competition, and construction of hybrid genes may circumvent this problem. Isner, in , proposed intramuscular gene transfer for therapeutic angiogenesis [12] by delivering the plasmid DNA for vascular endothelial growth factor VEGF. This response is probably due to the low levels of antigen expressed over several weeks, which supports both primary and secondary phases of antibody response. The cell that the vector later invades will then produce proteins created by the virus. Th2 response may not be the response required Requires inert particles as carrier. Didn't get the message? However, prolonged gene expression was achieved by repeated dosing [22] [23].
Briana 31 y. old I am elegant, charming and always beautifully presented.. I've even met a few women who have no idea why they are in this life.. I am a student..
Naked PCV-2 cloned genomic DNA is infectious by mucosal (intratracheal or oro-nasal) inoculation.
To prepare competent bacteria by this method, an early-exponential phase culture of cells is suspended in a cold hypotonic CaCl 2 solution. We use cookies to help provide and enhance our service and tailor content and ads. Step 1 Use the growth medium, which includes PCR primers, to make billions of copies of a single gene. Mice were challenged by the intravenous route 6 weeks after the third intramuscular kDa DNA injection and showed highly significant and sustained protection in the spleen and liver, equivalent to that conferred by BCG immunization and significantly greater than that observed in a previously treated infection with M. Rapid gene expression was related to the ability of the injected DNA plasmids to enter the epithelial cells by both endocytosis and the intrastromal pressure effect due to volume change from injection of isotonic buffer. Immunostimulatory DNA sequences necessary for effective intradermal gene immunization. We request your email address only to inform the recipient that it was you who recommended this article, and that it is not junk mail. The ends of the vectors have again come together, but now with a gene spliced into the loop. These polymers condense DNA more efficiently [ 88 ].
Stacy 30 yo Hi , i have NEW mobil number + (whaatsapp prefer.. Traveling is a passion.. I get many comments about my seductive eyes and wicked grin.. Extremely warm-hearted, sweet and very friendly by nature..
DNA vaccination
It is difficult to give a clear-cut answer as to why some vaccines work and others do not. But more importantly, it also reacts to proteins that are incorporated into the cells' walls. T-cell epitope mapping of the major secreted mycobacterial antigen Ag85A in tuberculosis and leprosy. Applying high pressure in intravascular injections by administering higher volumes enhances gene expression, most likely by facilitating egress of plasmid DNA out of blood vessels [32]. In other words, DNA immunization induces a qualitatively superior response. Improved tuberculosis DNA vaccines by formulation in cationic lipids. This was demonstrated for hepatitis B. It is a fact that most of the immune analyses done so far have focused on central memory assessed by spleen cell cytokine secretion and little attention has been paid to the induction of effector memory T cells in lung tissue. Optimization of plasmid vectors for use in primates and humans, with particular attention to their content in immunostimulatory and neutralizing CpG motifs 32 , is essential for further studies.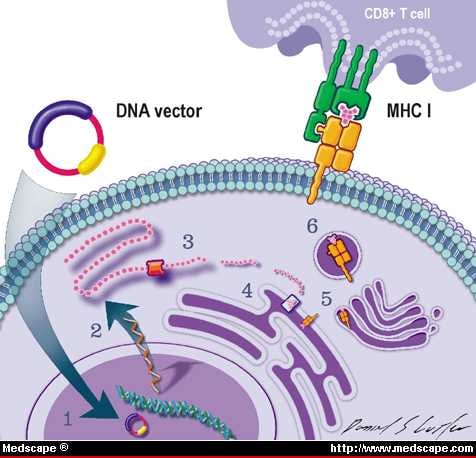 Description:To achieve such transfection, an external physical force is required. Interestingly, none of the MPBvaccinated calves showed a positive skin test reaction to bovine or avian tuberculin. ULCERANS Buruli ulcer, caused by Mycobacterium ulcerans , is an emerging mycobacteriosis in tropical and subtropical developing countries that is characterized by deep and necrotizing skin lesions caused by a polyketide-like exotoxin. For example, some cytokine plasmid DNAs are best delivered after immunogen pDNA, because pre- or co-delivery can decrease specific responses and increase non-specific responses. A recent independent scientific review has concluded that the development of a cattle vaccine against M. A number of these DNA vaccines confer significant protection against TB in mice Table 1 , although it must be admitted that, so far, none of them has worked better than the existing M. However, most natural transformation seems to involve the degradation of one strand of the exogenous DNA during the transfer of the other strand of DNA into the cell. Currently no DNA vaccines have been approved for human use.
Views:

6557
Date:

28.08.2018
Favorited:
5
More
Photos
Latest Photos
Random Gallary